NEW ART BOOK COMING OUT NOVEMBER 13!
Art Lab for Kids: Express Yourself:
52 Creative Adventures to Find Your Voice Through Drawing, Painting, Mixed Media, and Sculpture (Lab Series)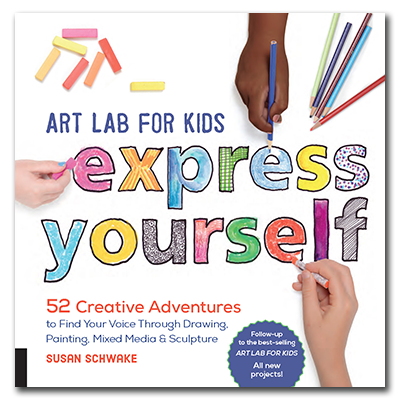 Follow-up to the best-selling Art Lab for Kids, with 52 new projects!

Art Lab for Kids: Express Yourself is a fun collection of art activities that encourage children to create freely, using their own thoughts and experiences as a guide. Young artists are encouraged to discover their style, document their thoughts, and build confidence in their unique perspective.
Each lesson asks questions and offers personal choices while encouraging diverse approaches and creative thinking. Many projects include varying examples and executions of the activity to illustrate and reinforce the open-ended nature of the labs, inspiring children to embrace and share their own voice.
We will have a book release on November 17, noon-2pm. We'll have an exhibit of the artworks from the book and light refreshments. Coinciding with the Salmon Fall Artists Mill Open Studios day, you can also visit some of the artists studios in the mill across the street.
Pre-order here or get your copy at our studio!
Art Camp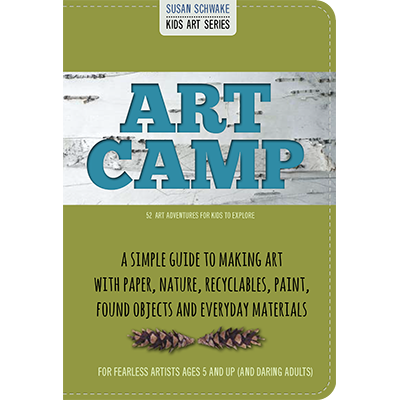 Art Camp is the second book of art instruction from Susan's new Kids Art Series. This book is an easy-to-use collection of self-guided lessons for kids to pull out again and again to expand their skill sets and gain confidence in making art. The beautiful full-color photographs illustrate the projects in this easy-to-explore guide. Step-by-step simple art adventures are inspired by artists and the natural world in this full-color instructional book.
Art Camp is the go-to book to slip into a suitcase for vacation or backpack for an overnight as a great alternative to screen time and for some great art-making fun! Perfect for gifting and ideal for the family library!
This exciting new instructional book is self-guided
for kids featuring:
52 expandable art projects that most kids can do on their own!
repeatable projects with dif ferent results each time
guide-sized format for backpacks and pockets!
full-color photographs and step by step instruction
skill building projects that grow confidence
simple materials
artists inspiration
great for trips, classrooms, homeschoolers, youth groups and, of course, parents!